Deze beroemdheden geven geen fuck om cellulite en leggen uit waarom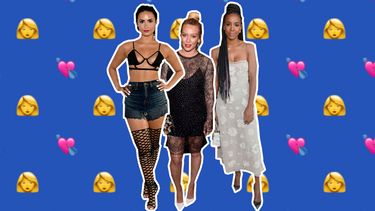 Cellulite is een veelbesproken woord de laatste tijd. De deukjes in de huid die geen duidelijke reden hebben, lijken reden te zijn waarom veel meiden onzeker zijn. Daarom hulde aan deze celebs, die geen fucks geven om cellulite.
Beroemdheden met cellulite
Cellulite is nog altijd een onderwerp wat veel mensen bezighoudt. Gelukkig is er de laatste tijd steeds meer acceptatie rondom de sinaasappelhuid. Thank god , want je kan er helemaal niks aan doen. Steeds vaker zien we ook celebs die hun natuurlijk schoonheid omarmen en die vol trots hun lichaam laten zien op social media.
1. Ashley Graham
Ashley Graham, model en groot voorstander van body-positivity, probeert al enige tijd de wereld ervan te overtuigen dat het belangrijk is om van je lichaam te houden zoals het is. Ze zegt "I remember telling my mom, 'Isn't it disgusting? It's so ugly.' She pulled her pants down and said, 'Look, I have it too.' And I was like, 'Gasp!' She looked at me, then at it, and just rolled her eyes. She didn't tell me that it's beautiful or ugly. She just made it a nonissue. It doesn't define my worth."
406.2k Likes, 3,186 Comments – A S H L E Y G R A H A M (@ashleygraham) on Instagram: "Introducing my latest @swimsuitsforall collection! We decided to use unedited paparazzi shots as…"
407.3k Likes, 9,880 Comments – A S H L E Y G R A H A M (@ashleygraham) on Instagram: "I workout. I do my best to eat well. I love the skin I'm in. And I'm not ashamed of a few lumps,…"
2. Demi Lovato
Zangeres Demi Lovato is ook altijd eerlijk geweest over zelfbeeld en is vastberaden een voorbeeld te zijn. "Cellulite and yet I still love myself." had de zangeres op Instagram gezet. De cellulite was niet zo heel erg zichtbaar in de video, waardoor ze opmerkingen naar haar hoofd geslingerd kreeg. "The Boomerang smoothed out my legs. The point is, I have cellulite just like the other 93% of women do. What you see on Instagram isn't always what it seems to be. Let's embrace our real selves."
https://pin.it/2cj7w2pt3pz6fq
https://pin.it/4uxfduiwnpi7ou
3. Hilary Duff
Ook Hilary Duff blijft lekker zichzelf toen ze een foto van zichzelf op het strand postte. Vooral de omschrijving onder de foto liet duidelijk haar mening zien."Since websites and magazines love to share 'celeb flaws'—well I have them! My body has given me the greatest gift of my life: Luca, 5 years ago. I'm turning 30 in September and my body is healthy and gets me where I need to go. Ladies, lets be proud of what we've got and stop wasting precious time in the day wishing we were different, better, and unflawed. You guys (you know who you are!) already know how to ruin a good time, and now you are body shamers as well. #kissmyass."
1.3m Likes, 39.3k Comments – Hilary Duff (@hilaryduff) on Instagram: "I am posting this on behalf of young girls, women, and mothers of all ages. I'm enjoying a vacation…"
4. Kelly Rowland
Ook een applausje voor zangers Kelly Rowland, want ook zij is compleet eerlijk over lichaamsbeeld. In een interview met Shape zegt ze: "I used to be very self-conscious about the cellulite and stretch marks on my butt. When I was overseas, a picture came out showing my imperfections and someone tried to body-shame me. That moment made me embrace my derrière." De beschrijving onder de foto is "[email protected] BE HUMBLE" [email protected]" wat een referentie is naar Kendrick Lamars nummer, waarin hij vrouwen met striae bewondert.
79.9k Likes, 1,621 Comments – Kelly Rowland (@kellyrowland) on Instagram: ""[email protected] BE HUMBLE" [email protected]"
5. Lena Dunham
Actrice Lena Dunham, bekend van de serie Girls, schitterde op de cover van de Amerikaanse Glamour. In een Instagram post zegt zij: "Thank you to the women in Hollywood (and on Instagram!) leading the way, inspiring and normalizing the female form in EVERY form, and thank you to @glamourmag for letting my cellulite do the damn thing on newsstands everywhere today ❤️ Love you all."
6. Hunter McGrady
Sports Illustrated model Hunter McGrady, die barrière's doorbrak door het model met de meeste rondingen te zijn van het tijdschrift, zegt het volgende: "I'm a size 16. And I'm here to say this is what confidence looks like and it's beautiful. Why are we so worried if, God forbid, we have a roll, cellulite, or stretch marks? These are normal, human things that everybody has. My fiancé has them, and he's a man. Everybody has them. I just don't understand because society tells us they are our flaws."
22.6k Likes, 199 Comments – Hunter McGrady (@huntermcgrady) on Instagram: "#nationalbikiniday because EVERY body is a bikini body! ??❤️ suit is from my collection with…"
7. Gabi Gregg
Blogger en body positivity-activist Gabi Gregg deelde een opmerking over hoe ook dingen zoals het licht foto's kunnen beïnvloeden. Ze post onder een video op Instagram het volgende: "Reminder that cellulite is normal and nothing to be ashamed of (and also depends on lighting! You can literally see mine "disappear" as I walk out of a shadow here)."
6,863 Likes, 38 Comments – Gabi (@gabifresh) on Instagram: "Reminder that cellulite is normal and nothing to be ashamed of (and also depends on lighting! You…"
8. Iskra Lawrence
Model Iskra Lawrence heeft in 2017 een mega inspirerend speech gegeven, waarin ze problemen wat betreft bewerkte foto's aankaart. In de speech zegt ze bijvoorbeeld het volgende: "I had to forgive myself for the times I saw retouched pictures of myself with slimmer arms, a thigh gap, unachievably smooth skin, with no cellulite or back fat, and thought that's how I should look in real life. I now know that just because people decided to alter my appearance to look 'perfected,' it doesn't make me any less beautiful in the real world—where I can't walk around airbrushed."
387.6k Likes, 4,672 Comments – i s k r a (@iskra) on Instagram: "?⚡️I wouldn't usually post this but… I do wonder how many posts that start like this are…"