Deze 7 body positive accounts wil je volgen op Instagram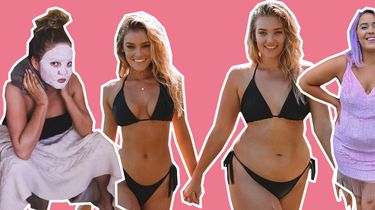 Body positivity is hot. Steeds meer mensen raken zich ervan bewust hoe belangrijk het is lekker in je vel te zitten en dat je absoluut niet aan een bepaalde kledingmaat hoeft te voldoen om je goed te voelen.
Omdat we zo blij zijn dat we steeds meer body positive-movements om ons heen zien, zetten we graag een aantal Instagram-accounts op een rijtje die zeker een follow waard zijn.
Vera Camilla begon natuurlijk ooit als beautyblogger, maar heeft zich inmiddels ontpopt tot heuse body positive icoon. Ze heeft lak aan de 'perfecte maat' en trekt aan waar zij zich goed bij voelt. Daarnaast durft ze ook eerlijk te zijn. Net zoals iedereen heeft ook Vera weleens een off day en dat is niets om je voor te schamen.
Wie een beetje thuis is in de wereld van body positivity kent Megan ongetwijfeld al. Naast het feit dat we al heel blij worden van haar foto's (en haar!), deelt ze ook nog eens de allerleukste quotes over body positivity.
121.5k Likes, 2,969 Comments – Megan Jayne Crabbe ? (@bodyposipanda) on Instagram: "SOMEBODY GIVE ME A BEAT BECAUSE I'M ABOUT TO SLAY SOME DIET CULTURE. The picture above is a…"
Buiten het feit dat Kate prachtig is, vinden we haar attitude tegenover haar lichaam fantastisch. Ze poseert regelmatig met haar reteslanke vriendin Georgia om te laten zien dat beide lichamen prachtig zijn. Daarnaast beseft ze zich dat een lichaam zoveel meer is dan een maat. Zo schrijft ze onder een post:
"We all have so much more to offer this world than just our bodies and physical beauty regardless of the pressures put on everyone, (men and women alike) to look a certain way. Being physically healthy is so so important, but so is your mental health. Don't let your brain morph your body into something you hate. Be kind to yourself."
49.3k Likes, 927 Comments – Kate Wasley (@katewas_) on Instagram: "'This is me and you ?. I'm the one on the right' for all of you that are about to comment that, or…"
De Haagse Edith heeft als motto "be a size hero, not a size victim" en alleen daarom vinden we haar al leuk. Op haar Instagramaccount deelt ze de leukste looks, en altijd met een lach op haar gezicht. Enneh… we weten dat het volgende in principe niets met body positivity te maken heeft, maar je zou toch een moord doen voor deze heerlijke beachy lokken?
Ja, Chrissy Teigen hoort zéker in dit rijtje thuis. Ze is een bloedjemooi model en presentatrice, maar tegelijkertijd ook moeder van twee. Op haar Instagramaccount windt ze er geen doekjes om hoe het leven als kersverse mama eraan toegaat – niet altijd even glamorous als de Kardashians sommige celebs het laten lijken.
977.8K vind-ik-leuks, 12.9K reacties – chrissy teigen (@chrissyteigen) op Instagram: 'face mask / heat pad / vagina steam no I don't know if any of this works but it can't hurt right?…'
Misschien niet het account dat je hiertussen zou verwachten, maar toch is Tuigoma behoorlijk body positive. Je vindt er de allerleukste illustraties van hoe het vrouwelijk lichaam er écht uitziet.
73 vind-ik-leuks, 2 reacties – Tuig Oma (@tuigoma) op Instagram: '✨ Flawless trash ✨ #whitetrash'
Hoewel het misschien een cliché is, mocht Ashley toch niet in dit rijtje ontbreken. Ze was een van de eerste plussize modellen en heeft zo deuren geopend voor ieder plussize model dat na haar kwam.
331.9k Likes, 1,655 Comments – A S H L E Y G R A H A M (@ashleygraham) on Instagram: "Off to even warmer weather! ☀️ ☀️ ☀️☀️☀️☀️☀️☀️☀️☀️☀️☀️☀️"
Deze statement body positivity-items wil jij aan je lijf hebben