Dankzij #FreethePimple durven mensen hun huidproblemen te laten zien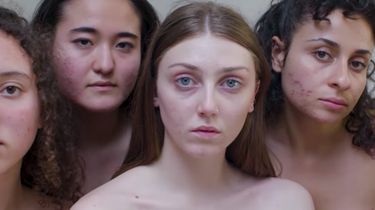 Op het gebied van 'perfecte imperfectie' worden er al goede stappen gemaakt, maar daarmee is nog lang niet alles genormaliseerd. Hartstikke terecht vond model Louisa Northcote dat het tijd werd om huidproblemen meer op de kaart te zetten.
Huidproblemen
Laten we eerlijk zijn – we hebben allemaal weleens huidproblemen (gehad), maar we posten sneller een foto van ons gezicht wanneer onze make-up deze 'imperfecties' perfect bedekt. De 21-jarige Louisa vond dit wel welletjes geweest en ze besloot daarom de hashtag #FreethePimple' in het leven te roepen. In een Instagram-post, waar ze haar acne laat zien, schrijft ze:
"I suffer with acne so therefore I guess I am not perfect but that is ok. I spent so many years covering it up, having it affect my day, affect my life and affect my mental health but now I embrace it as it is part of who I am."
Lees ook: Met de #SideProfileSelfie durven mensen eindelijk hun grote neuzen te tonen.
292 Likes, 5 Comments – Louisa Northcote (@lounorthcote) on Instagram: "I am part of a generation that is all about change and speaking up. I suffer with acne so therefore…"
#FreethePimple
In gesprek met het i-D Magazine vertelde Louise dat ze vroeger geen mensen om haar heen had met wie ze over haar acne kon praten. De reden achter de bedachte campagne is dus vrij logisch: het hebben van huidproblemen is hartstikke normaal, dus waarom gedragen we ons daar niet naar op het wereldwijde web?
Louisa inspireerde met haar hashtag al snel veel vrouwen. Kijk maar:
121 Likes, 3 Comments – Still Beautiful ? (@stillbeautifulnow) on Instagram: "Feeling good this summer, learning to consciously affirm myself with positive thoughts. I hope your…"
183 Likes, 24 Comments – @heynastyo on Instagram: "Если мой инстаграм – это о моей жизни, то акне – это неотъемлемая ее часть. Наверное, только…"
106 Likes, 8 Comments – Analisa Corral (@analisacorral_) on Instagram: "I'm a woman. I take flower baths ? eat kale and get cysts. #freethepimple"
66 Likes, 34 Comments – Lobster Girl (@burgundybluegum) on Instagram: "Growing up, I suffered through several serious skin problems. Acne makes me feel super insecure and…"
149 Likes, 10 Comments – Acne Blog (@louisereeby) on Instagram: "? I was feeling good despite the acne ? . . . . . . . . #acne #acnegirl #acnescars #blemishes…"
67 Likes, 18 Comments – Rachel Spring (@spriiingtime) on Instagram: "Skin update ✨ * I posted this on my story but I wanted to post it here as well. My skin has been on…"
59 Likes, 8 Comments – Kat ? (@my.beautiful.acne) on Instagram: "New hair cut is giving me life! Thank you @joshua.cuts.hair feeling fly!! #newhaircut…"
Of je nu wel of niet last hebt van huidproblemen; iedereen is prachtig. Wil je nog meer weten over de campagne? Dan doe je er goed aan om de video waarin Louisa en fotograaf Sophie Harris-Taylor worden geïnterviewd, te bekijken.