Deze 20 memes beschrijven je haarstruggles perfect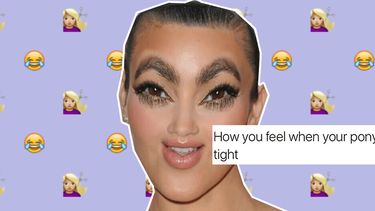 'Als je haar maar goed zit', een zin die elke vrouw waarschijnlijk wel eens heeft uitgesproken. Natuurlijk is het niet echt zo zwart-wit, maar een good hairday zorgt toch voor een wat meer zelfverzekerder gevoel.
Dit vind je ook leuk: Struggles met je haar? Dit kan wel eens de oplossing zijn
De realiteit is dan ook: soms proberen we wel eens iets met ons haar, maar het pakt niet altijd zo goed uit als we willen. Daarnaast zijn er nog een heleboel typische haarstruggles waar je waarschijnlijk zelf ook weleens last van hebt gehad. Het is allemaal beschreven in onderstaande 25 memes.
1.
watches Easy Hairstyle tutorial* *burns neck with curling iron* *stabs scalp with bobby pin* *gets hairspray in eyes* *wears hair in ponytail*
2.
30.3k Likes, 738 Comments – Skincare, Self Care & Self Luv (@skincarebible_) on Instagram: "?? who else has this problem? Follow me @skincarebible_ for more ♥️ . . . #haircare #haircaretips…"
3.
It's like … you WANT long hair but short hair is so in and trendy rn. But every time you have short hair you want long hair, and when you have long hair you have this wild desire to just CHOP IT ALL OFF. Anyway, have a good day.
4.
40 Likes, 8 Comments – The Beauty Shop (@thebeautyshopbristol) on Instagram: "#hairhumor #hairknowledge #thebeautyshopbristol #hairmemes"
5.
Maybe she's born with it, but most likely she botched it at home" should be my slogan when I color my own hair.
6.
381 Likes, 24 Comments – SchwarzkopfProfessionalCanada (@schwarzkopfcan) on Instagram: "When you can't stop thinking about hair…. Tag us with your favorite toned looks (or favorite ice…"
7.
a tragedy: when your hair-wash cycle doesn't coordinate w/ an event & you overestimate the amount of time in which your hair can last w/o being washed
8.
Hairdresser: [holding up mirror] what do you think? Me: [horrified] I love it
9.
When will Instagram just allow long photos ? Why u making me choose between my hair n shoes
10.
today i saw two girls holding their friends hair back because it was very windy and she was trying to eat a donut. i love seeing women support eachother
11.
I feel like a different person when I curl my hair
12.
me: "i taught the dog to bark when someone lies" wife: "i dont care about that, do you like my haircut?" me: [slowly covers the dog's ears]
13.
when u do your hair for brunch and they cancel
14.
once u put ur hair in a bun there's no going back until u wash it
15.
Me after I get my hair and nails done and only got $1.89 left in my account
16.
1,300 Likes, 11 Comments – West Indian??SPAM‼️ (@thatcaribbeanchick) on Instagram: "I love high puffs, they are an easy and beautiful hairstyle ??‍♀️ #naturalhairstyles #naturals…"
17.
i am a whore for dry shampoo
18.
28 Likes, 2 Comments – nvenn hair and beauty bar (@nvennhairbeautybar) on Instagram: "that is NOT enough time, honey ?? happy #memewednesday . . . . . . . . . #modernsalon…"
19.
DENTIST: I need to test how sensitive you are ME: Ok DENTIST: You have a stupid haircut ME *lip starts trembling* DENTIST: I see
20.
27 Likes, 2 Comments – Angel St. Julien (@allurebyangel) on Instagram: "Happy Saturday ? ___________________________________________________ #allurebyangel #makeupartist…"
Waar herken jij je in?