Zien – Dit waren de highlights van Paris Fashion Week
Afgelopen week was het de beurt aan Paris Fashion Week. Waar de front rows van de shows in februari nog bomvol zaten, was het nu vooral met afstand. In tegenstelling tot Londen, organiseerde Paris Fashion Week nog veel fysieke shows die ook online bekeken konden worden. De shows van Franse modehuizen zaten vol inspiratie voor volgende zomer.
Van Dior tot Chanel en Hermès tot Louis Vuitton. Dit waren de highlights van Paris Fashion Week SS21.
1. Dior
Dior trapte de tweede dag van Paris Fashion Week af met de Spring/Summer 2021 show. De zomercollectie van creative director Maria Grazia Chiuri zat niet vol met tailored looks, maar vooral met luxe comfort. We zagen vooral veel losvallende stukken van prachtige materialen op de catwalk van Dior. Looks met patchwork prints van paisley en bloemen stonden centraal, geinspireerd op de kunstwerken van de Italiaanse kunstenares Lucia Marcucci.
Volgens Maria Grazia Chiuri staat draagbaarheid centraal in de huidige tijd. "We are living in a different way and staying more at home within our intimacy. Our clothes have to reflect this new style of life," vertelde ze na haar show. De boodschap? Ontspannen maar luxe de lente en zomer van 2021 doorbrengen.
2. Acne Studios
Het Zweedse merk Acne Studios koos ook voor een social distanced show in Parijs. Dat het merk bekend staat om minimalistische stukken met hedendaagse invloeden en trends lieten ze ook tijdens Paris Fashion Week zien. Er werd gespeeld met lagen, verschillende stoffen en silhouetten tijdens de nieuwe collectie. Oversized blazers doen het nog altijd goed en laten de hedendaagse invloeden naar voren komen in de show.
In de woorden van Acne Studios ging de collectie vooral om bevrijding, transformatie en wedergeboorte. "A collection about liberation, transformation and personal rebirth. Gatherings for a spiritual moonrise, the energy of twilight, the darkness before the dawn and the impossible light of a full moon rising," schreef het merk.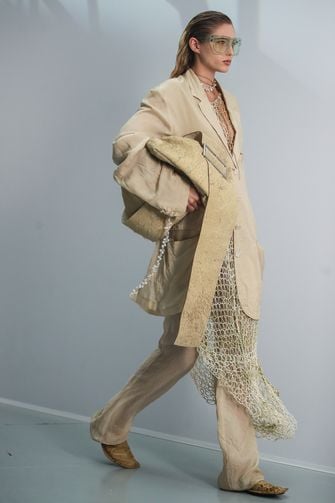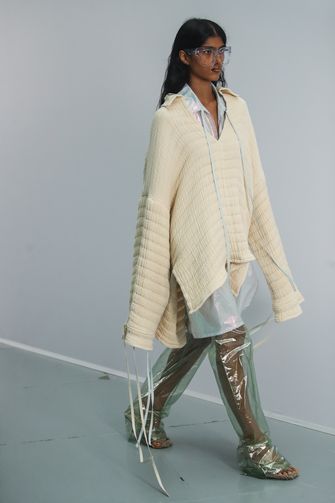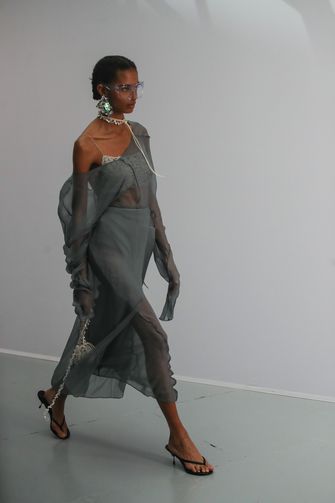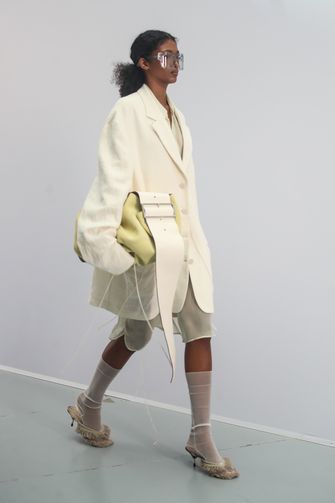 3. Balmain
Net als andere merken was ook de nieuwe collectie van Balmain geïnspireerd op de tijd die we thuis doorbrengen. Maar voor Balmain betekent comfort niet meteen dat er relaxede looks op de planning staan. De signature look met brede schouders wordt nu gecombineerd met een fietsbroek of een soepel vallende pantalon in neonkleuren.
De collectie ging over optimisme, volgens creative director Olivier Rousteing. "Perhaps my optimism is a reflection of my own personal history—after all, it was not too long ago that someone like me was never meant to end up in the position that I occupy today," vertelde hij.
4. Isabel Marant
Isabel Marant nam ons tijdens de show mee naar een wereld die we bijna vergeten zijn: drukke dansvloeren, discolichten en harde muziek. De show tijdens Paris Fashion Week ging van een skatepark naar een nachtclub. En de looks waren klaar om gedragen te worden tijdens een post-Covid avondje uit. Skaters in metallic hot pants, mini-jurkjes en strappy sandalen, we zagen het allemaal.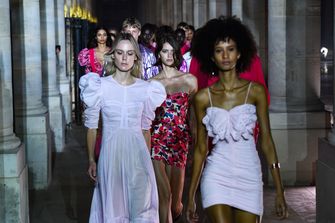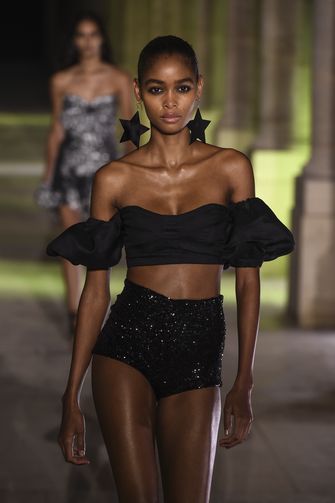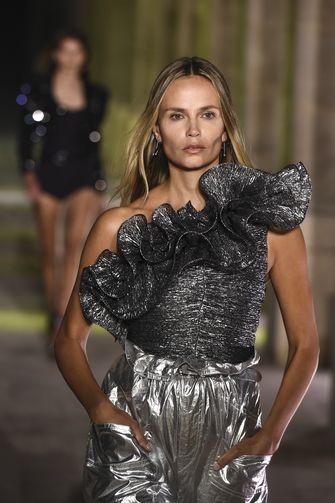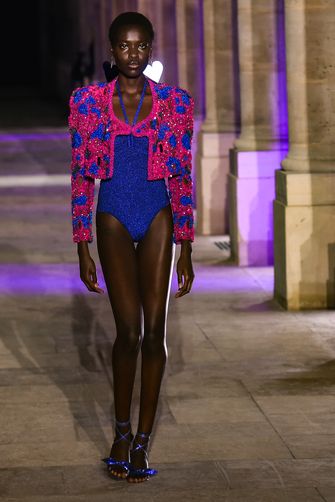 5. Hermès
Modehuis Hermès liet tijdens Paris Fashion Week zien hoe je een online show aanpakt. De show was te zien voor kijkers van over de hele wereld. En dan de looks. De SS21-collectie van Hermès is geïnspireerd op een nieuwe vrouw die verschijnt in een verheven realiteit: van minimalistische looks tot kleurrijke statements en abstracte vormen. De collectie straalt kracht uit maar laat ook elementen van kwetsbaarheid zien.
6. Givenchy
De SS21-collectie van Givenchy was de eerste van de nieuwe creative director Matthew Williams. Hij maakte de collectie in maar twee maanden te midden van een pandemie. Het merk zet een nieuwe richting in, maar blijft bij de klassieke Givenchy-stijl. De collectie werd beschreven als "pointing to the past, present and future" en "a sense of celebration". Scherp maatwerk, losse items en geweldige avondkleding zagen we bij Givenchy.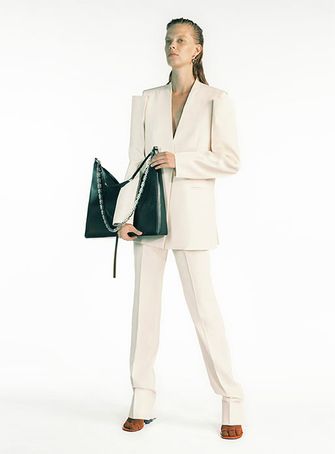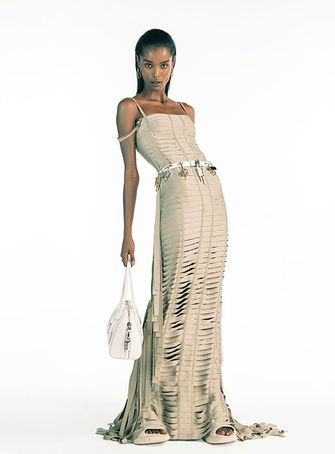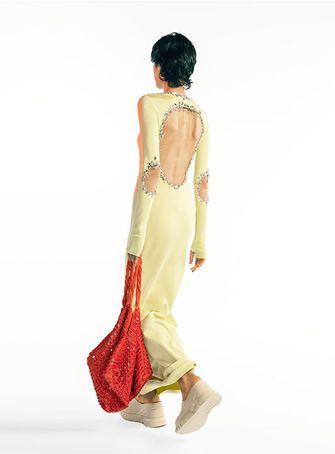 7. Chanel
Last but not least: op de laatste dag van Paris Fashion Week kwam Chanel met een prachtige show. En natuurlijk kon Chanel niet alleen volstaan met een digitale livestream, maar kwam er ook een fysieke show in het Grand Palais. Een prachtig decor, veel roze en Hollywood-inspired looks: online werd de show uitgeroepen tot de beste van Virginie Viard voor Chanel tot nu toe.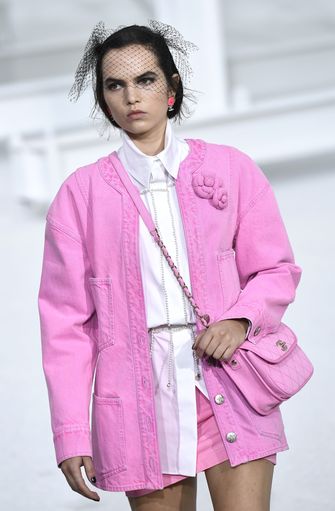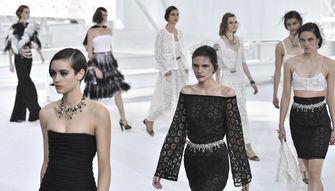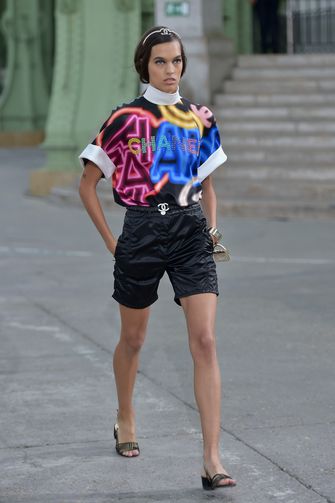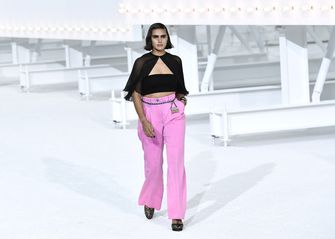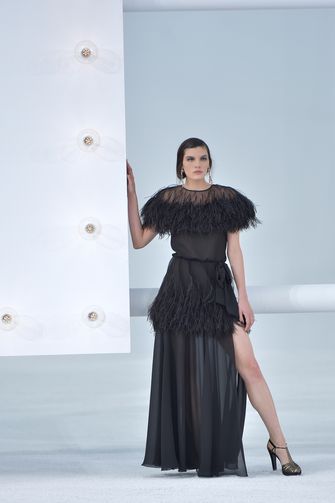 8. Miu Miu
Dat roze de kleur van het seizoen wordt, zagen we niet alleen bij Chanel maar ook bij Miu Miu. De collectie liet zien hoe vrouwen zich kleden voor verschillende gelegenheden. Of het nu een gala of een sportsessie is of misschien wel allebei tegelijk. De collectie van Miu Miu ging over zelfexpressie, mixing and matching en bevatte looks die geschikt zijn voor elke gelegenheid.
9. Louis Vuitton
Paris Fashion Week werd op de laatste dag getrakteerd op een prachtige show van Louis Vuitton. Voordat de modellen überhaupt op de catwalk stonden, verschenen er al foto's van prachtige accessoires op Instagram. "It's going to be beautiful, and it's about being responsible without losing the effect I want to give – which is a great show, but maybe in a more balanced way than we are used to," schreef creative director Nicolas Ghesquière voordat de show van start ging in Parijs.
En de show was op zijn zachtst gezegd great. De collectie zat vol klassieke items met een eigentijdse twist en hedendaagse boodschappen. Zo startte de show met een sweater met de tekst 'Vote' die refereerde naar de Amerikaanse verkiezingen. Spencers, oversized jasjes en klassieke pantalons: Louis Vuitton SS21 heeft het allemaal en meer. Om over de accessoires nog maar niet te spreken, want die staan al bovenaan ons verlanglijstje.