Kim Kardashian verdient met 1 Instagram-post meer dan de president in een jaar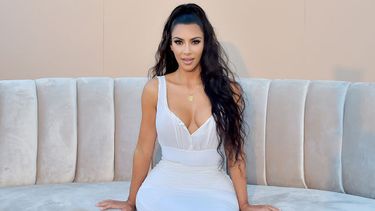 Goed, we weten onderhand allemaal wel dat Instagram niet alleen een plek is voor mooie kiekjes van vegan restaurants. Maar hoeveel kun je daadwerkelijk verdienen met een fotootje op de app? Houd je vast, want Kim Kardashian verdient meer dan het salaris van de president van de Verenigde Staten, met één foto.
Kimmy versus Donnie
Tegenwoordig kan je een hele carrière opbouwen door middel van Instagram. Sommigen verdienen er serieus wat flappen mee. Maar er is niemand die Kim K kan toppen wat betreft de opbrengsten van een kiekje. Volgens een recent onderzoek van STAT, een journalistieke website, heeft Kim Kardashian meer verdiend met één Instagram post, dan de president in een heel jaar verdient. Wat?!
STAT heeft een contract in handen gekregen tussen een medisch bedrijf en Kims bedrijf, waarin staat dat ze voor een post een half miljoen dollar krijgt. Jep, het posten van een foto waarin ze een pil promoot tegen ochtendmisselijkheid, levert haar maar liefst $500.000 op. Het jaarsalaris van de president? $400.0000.
685.2k Likes, 12.7k Comments – Kim Kardashian West (@kimkardashian) on Instagram: "#Ad Nothing ever stopped me from being me until #morningsickness. You know how sick I was while…"
Mo' money mo' problems
De post is geplaatst in 2015 door Kim. En je zou denken dat wanneer er een prijskaartje van een half miljoen aan een post hangt, alles clear en eerlijk is. Toch ging er iets mis, want Kim heeft bij de post verzuimd de risico's van het nemen van de afslankpil te noemen. Daardoor werd het medische bedrijf een verbod opgelegd, waarin stond dat ze Kims social media niet meer mochten gebruiken.
699k Likes, 8,778 Comments – Kim Kardashian West (@kimkardashian) on Instagram: "#Ad #DYK 4 million babies are born each year in the US. That means a lot of my US followers are…"
Toch schijnt het zo te zijn dat het bedrijf alsnog met Kim samenwerkt, en dat de verkopen na de post aanzienlijk stegen. Ach ja, van Kims kant begrijpen we het wel. Een half miljoen verdienen terwijl je op de bank in je trainingspak een fotootje upload. Prima.
Wil je meer weten (lees: huilen) over het vermogen van de Kardashians? Dan vind je dit vast ook leuk:
Forbes noemt Kylie Jenner de jongste self-made miljardair ooit en dat is natuurlijk niet waar