In deze 10 films had Meghan Markle een rol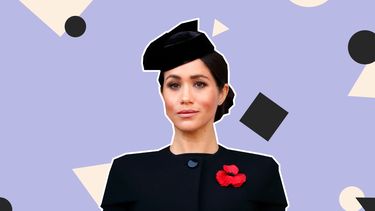 Dreams do come true en daar is Meghan Markle het levende bewijs van. Als actrice kreeg ze grote rollen toebedeeld en de meesten kennen haar als Rachel uit Suits. Haar leven werd nog wat mooier toen ze verliefd werd op prins Harry en samen verwachten ze nu een kleine koninklijke baby.
Nadat Meghan trouwde met Harry was uitgesloten dat ze ooit nog zou gaan acteren. Omdat we haar zo nu en dan nog wel op het doek willen zien hebben we tien films op een rijtje gezet waar ze een rol in heeft.
1. Dater's Handbook (2016)
In Dater's Handboek vertolkt Meghan de rol van Cassandra.
Realizing she has a habit of picking the wrong guy, Cassandra turns to a self-help book to help her ailing love life. After following the book's advice she must choose between following the rules and following her heart. A Hallmark Channel original.
2. Random Encounters (2012)
In Random Encounters vertolkt Meghan de rol van Mindy.
A RANDOM ENCOUNTER Official Trailer (2018) Meghan Markle Comedy Movie HD Subscribe to Rapid Trailer For All The Latest Trailers! ▶ https://goo.gl/dAgvgK Follow us on Twitter ▶ https://goo.gl/8m1wbv A Random Encounter is a roller-coaster ride that proves finding your Prince Charming can be a right royal pain.
3. Dysfunctional Friends (2012)
In Dysfunctional Friends vertolkt Meghan de rol van Terry.
For more information, visit http://watchimage.com/product/dysfunctional-friends/fe82de46-7ab9-42e1-8c2c-4f841f82ce08 A group of college friends are reunited after the death of a larger-than-life friend. Little do they know, a will was left behind. The will says each of his nine remaining college friends will receive a large sum of money, if they can stay in his mansion together for one week without leaving.
4. Horrible Bosses (2011)
In Horrible Bosses vertolkt Meghan de rol van een FedEx-girl.
For Nick, Kurt and Dale, the only thing that would make the daily grind more tolerable would be to grind their intolerable bosses into dust. Quitting is not an option, so, with the benefit of a few-too-many drinks and some dubious advice from a hustling ex-con, the three friends devise a convoluted and seemingly foolproof plan to rid themselves of their respective employers…permanently.
5. Get Him to the Greek (2010)
In Get Him to the Greek vertolkt Meghan de rol van Tatiana.
For more info on 'Get Him to the Greek' visit: http://www.hollywood.com
6. Remember Me (2010)
In Remember Me vertolkt Meghan de rol van Megan.
In the summer of 2001, New York college student Tyler (Robert Pattinson, The Twilight Saga) is still feeling lost from the tragedy that has strained his relationship with his father when he meets Ally (Emilie de Ravin, TV's Lost), a girl who understands his pain.
7. The Boys and Girls Guide to Getting Down (2010)
In The Boys and Girls Guide to Getting Down vertolkt Meghan de rol van Dana.
An outrageous story blended with a how to guide to enjoy a truly insane party lifestyle. The film follows a group of Hollywood party-goers on their escapade as they travel from home to bar to party to after-party seeking the ultimate party experience.
8. The Candidate (2010)
In he Candidate vertolkt Meghan de rol van Kat.
The Candidate is a short film produced by Urban Apache Films. In 1957, war veteran Charles Blanchard is driven to a remote mansion to be interviewed by the leader of a mysterious covert organisation.
9. Deceit (2006)
In Deceit vertolkt Meghan de rol van Gwen.
Dopo anni di lontananza, Dave ritorna nella sua città natale dove incontra vecchi amici e un amore mai dimenticato: la bellissima e provocante Emily. La ragazza è però ora sposata con Brian, il suo migliore amico di sempre, anche se il loro matrimonio sembra nascondere una storia di abusi ed alcolismo.
10. A Lot Like Love (2005)
In A Lot Like Love vertolkt Meghan de rol van Natalie.
On a flight from Los Angeles to New York, Oliver and Emily make a connection, only to decide that they are poorly suited to be together. Over the next seven years, however, they are reunited time and time again, they go from being acquaintances to close friends to … lovers?
Nog steeds niet genoeg gezien en gelezen over Meghan Markle? Dan vind je dit misschien ook wel interessant: