North West verstoort de video's van Kim Kardashian en we just can't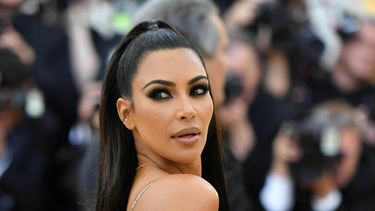 Kim Kardashian zit – net als de rest van de wereld – in quarantaine met haar familie. Dat betekent natuurlijk niet dat we niks van de superster horen, ze plaatst natuurlijk genoeg video's op social media. Toch gaat het opnemen van die video's alles behalve vlekkeloos, want North West treedt maar al te graag op de voorgrond.
Dat North West niet op haar mondje is gevallen wisten we al langer, maar de video's van Kim bewijzen het nog maar eens.
Kim Kardashian
Nu Kim in quarantaine zit, betekent het ook dat ze met haar vier kinderen moet dealen. En dat blijkt niet altijd even makkelijk te zijn. Toen Kim een make-up video wilde opnemen voor Instagram wilde kleine North haar niet met rust laten. Zelfs niet in één van de gastenverblijven van het enorme huis in Calabasas. North komt binnen met de tekst:"Can I wash my hands?" waarop Kim antwoordt: "Can you do it in the other room? I don't want to get this all wet, sweetie."
Kim biecht daarna op dat ze zich in een gastenverblijf probeert te verstoppen. "I'm hiding in the guest room, you guys. I'm hiding in the guest room because my kids will not leave me alone." Blijkbaar hoorde ook North deze beschuldigingen en antwoordde: "Hey, that's mean!"
Public Service Announcement
Maar North verstoort niet alleen de make-up video's van haar moeder. Terwijl Kim een Public Service Announcement opnamen voor de gouverneur van Californië, verscheen North weer in beeld. Kim begon met de tekst: "Hi everyone in California, it's Kim Kardashian West and I was just wanted to talk you," toen North toevoegde: "And North West."
Kim deed een poging om haar verhaal te vervolgen: "I just wanted to have a serious conversation with you guys about social distancing. I know it's California and we've got the most beautiful weather, but we have to start to train ourselves," waarop North zei (geen grap): "I want out." Maar het beste gedeelte kwam toen Kim mensen adviseerde om "mental health checks on your friends and your loved ones," te doen en North zei: "You should be more busy of your kids, not your friends."
We just can't. North West for president.
Staying at home means having so much fun with your kids! Just look at how much fun @KimKardashian & North West are having!

By staying home, you're saving lives. Keep it up, California.

? https://t.co/snYe5v55Rw #StayHomeSaveLives pic.twitter.com/3m21SRMuh1

— Office of the Governor of California (@CAgovernor) April 13, 2020