Tattoo's van fruit is dé nieuwe trend volgens tattoo artists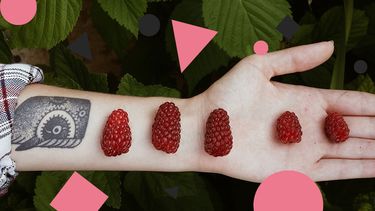 Het kiezen van een tattoo is best lastig. Het moet iets zijn wat je nu tof vindt, maar waarvan je zeker weet dat je het ook over vijftig jaar nog vet vindt. Dus waarom niet iets kiezen wat je altijd nodig hebt? Fruit.
Fruit tattoo's
Vroeger moesten onze ouders ons er elke dag aan herinneren dat we wel onze groenten en fruit moeten eten. Dat lijkt nu niet meer nodig te zijn, want iedereen is helemaal wild van fruit. Zó wild zelfs, dat we het massaal op onze lichamen tatoeëren.
1,269 Likes, 13 Comments – STUDIOBYSOL_Haeny (@haenytattoo) on Instagram: "/ ? / – #해니타투 # haenytattoo #koreatattooist #fruittattoo #avocadotattoo #홍대타투 #과일타투 #아보카도"
6,972 Likes, 87 Comments – jess chen (@__jesschen__) on Instagram: "healed smiley fruits, hand poked tysm for the photos megan ?✨"
284 Likes, 2 Comments – EVA (@evazzz22) on Instagram: "? Cherry♡Cherry? – – -…"
Tattoo-artiest Kelly Thorn legt een van haar fruit tattoo's uit. Ze zegt: "Jessica Hische was actually the first one to get it, and hers will forever be my favorite because she insisted on having me sign the design with my initials. Since then, many other fruit faces have followed, each one a bit different." Jessica Hische is een bekende schrijfster, dus het moment dat zij deze tattoo nam, werd het al snel een trend.
588 Likes, 7 Comments – Kelly Thorn (@jellythorn) on Instagram: "Ummm @jessicahische let me sign her fruit face tattoo!!! ???? I've been wanting to give this tattoo…"
2,154 Likes, 49 Comments – Christina Winkelmann (@christinawinkelmann) on Instagram: "please help me name this guy. to brief you, he ap-peach-iates a good fruit pun ?, he's one in a…"
Veel tattoo-artiesten hebben laten weten dat ze merken dat fruit permanent op je lichaam zetten helemaal in is. Als je een blik werpt op de Instagram pagina's van je favoriete tattoo-artiesten, zie je meteen kleine fruit tattoo's vaker voorbij komen dan de selfies van Kim Kardashian. En dat is vaak. Heel vaak.
3,220 Likes, 21 Comments – mira mariah (@girlknewyork) on Instagram: "Lil cherry for @pamplemousseny ?"
2,161 Likes, 11 Comments – Kelli Kikcio (@kellikikcio) on Instagram: "erin & i both grew up in saskatoon and moved to toronto to attend ryerson university… i always…"
Het valt ook op dat vooral veel kersen getatoeëerd worden. Wat de reden precies is waarom iedereen fruit laat tatoeëren, is niet helemaal duidelijk. Maar het is wel een feit dat fruit happy en positief is. Of misschien hebben mensen gewoon een dagelijkse herinnering nodig voor hun vitamines. Wij vinden het in ieder geval heel leuk.
95 Likes, 12 Comments – Zadia Tirto (@zadia_tattoos) on Instagram: "Very realistic flower and fruits for Pree. Thanks for coming back! This was fun! Lychee is healed!…"
109 Likes, 2 Comments – Alexis Brooke (@alexbrooke) on Instagram: "Peachy flash for @fairycourt yesterday! It's been a long time comin'. Good to see you again ? . . …."
Dit vind je ook leuk om te lezen.