Taylor Swift spreekt zich voor het eerst uit over haar politieke voorkeur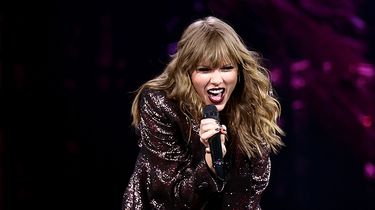 Waar veel celebrities hun politieke voorkeur niet onder stoelen of banken steken, is dat bij Taylor Swift wel een ander verhaal. De zangeres is hier nooit erg open over geweest, tot nu.
Taylor Swift over haar politieke voorkeur
Nu de tussentijdse Congresverkiezingen (oftewel de midterms) eraan komen, besloot Taylor dat dit het moment was om zich uit te spreken over haar stemgedrag. In een bericht op Instagram maakt de zangeres duidelijk dat ze voor gelijke behandeling voor iedereen is en dat ze hier ook naar zal gaan stemmen. Dit betekent dat ze hoogstwaarschijnlijk zal stemmen voor een democratische partij, in plaats van een republikeinse.
"I always have and always will cast my vote based on which candidate will protect and fight for the human rights I believe we all deserve in this country. I believe in the fight for LGBTQ rights, and that any form of discrimination based on sexual orientation or gender is WRONG. I believe that the systemic racism we still see in this country towards people of color is terrifying, sickening and prevalent."
Ze stemt het liefst op een vrouw
Verder onthult ze dat ze het liefste voor een vrouw zou stemmen, maar ze het niet eens is met Marsha Blackburn van de republikeinse partij in Taylors thuisstaat Tennessee. Blackburn zou er namelijk behoorlijk ouderwetse standpunten op nahouden. Zo is ze niet voor gelijke lonen voor mannen en vrouwen en is ze van mening dat homostellen niet mogen trouwen.
"As much as I have in the past and would like to continue voting for women in office, I cannot support Marsha Blackburn. Her voting record in Congress appalls and terrifies me. She voted against equal pay for women. She voted against the Reauthorization of the Violence Against Women Act, which attempts to protect women from domestic violence, stalking, and date rape. She believes businesses have a right to refuse service to gay couples. She also believes they should not have the right to marry. These are not MY Tennessee values."
202.6k Likes, 0 Comments – Taylor Swift (@taylorswift) on Instagram: "I'm writing this post about the upcoming midterm elections on November 6th, in which I'll be voting…"
Taylor eindigde haar Instagram caption met een oproep aan alle jonge Amerikanen om te gaan stemmen.
Taylor Swift stond tijdens haar concert stil bij Pride Month en haar fans werden wild