Details! Whitney Port vertelt waarom Lauren Conrad niet in The Hills komt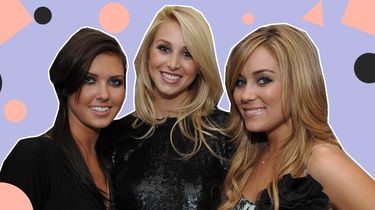 In september begint de productie van het nieuwe seizoen van The Hills: New Beginnings. Whitney Port vertelt ons alvast wat juicy details, zoals waarom Lauren Conrad niet mee gaat doen en waarom dit seizoen zonder script is.
The Hills Reboot
Het is alweer tien (!) jaar geleden dat Whitney tegenover Lauren zat tijdens lunch en ze aankondigde dat ze naar New York City zou verhuizen. Whitney heeft twee seizoenen meegedaan aan The City en toen de show in 2010 ten einde kwam, is ze niet veel in de spotlight geweest. Nu woont ze met haar man Tim Rosenman in LA met hun 1-jarige zoon Sonny.
22.7k Likes, 63 Comments – Whitney Port (@whitneyeveport) on Instagram: "Heading home today from beautiful Montana. One of the prettiest places I've ever been. Trying to…"
In een interview met Cosmopolitan zegt ze het volgende: "I definitely feel nervous. But I'm excited to show what it's like to be a working mom, working dad, and balance trying to raise a good kid, but also take care of yourself. My husband [will be on the show] maybe here and there, but not like a big part of it. He works in television behind in the camera, in development, so he doesn't really want to be [in the spotlight]."
Waarom doet Lauren niet mee
Het werd eerder al aangekondigd dat Lauren en Kristin niet terugkeren, dus we hebben al de nodige mascaratraan gelaten. Whitney zegt: "I really wanted both [Lauren] and Kristin to come back because the show was pretty much based on the two of them. I feel like it would have been so great to have everybody involved. But people go in different directions, and we're older now, so I understand not wanting to be on TV anymore. I was definitely disappointed."
Logisch dat Lauren en Kristin niet meer met hun hoofd op tv willen, maar dat maakt het niet minder jammer. Zonder het iconische duo Lauren en Whitney, gaat de show sowieso anders zijn.
Geen script meer
Een andere enorme verandering is dat de serie niet meer gescript is, in tegenstelling tot de vorige seizoenen. De kijkers zijn tien jaar later wel meer gewend van tv en zijn daarom niet meer zo makkelijke te manipuleren, denken we.
Whitney zegt hierover: "I definitely don't think it's going to be scripted. Fans and viewers can see right through the fake stuff. [Producers are] really going to look at what's actually going on in our lives. There's probably enough happening in all of our lives that it will speak for itself and [drama] won't have to be created. Fans and viewers can see right through the fake stuff."
24.5k Likes, 409 Comments – Whitney Port (@whitneyeveport) on Instagram: "#eurotrip"
Zorgen
Natuurlijk gebeurt er nu heel veel in de levens van de realitysterren, maar drama staat gelijk aan kijkcijfers. Dus de kans is groot dat de producenten hier en daar wat dingetjes gaan opstoken. Je weet na zoveel jaar te hebben gespeeld in een realityserie zoals The Hills wel waar je je voor opgeeft.
Whitney legt uit: "That's my biggest concern with the show is that it's going to magnify the flaws of motherhood. Mothers are already compared to [each other] enough in a really unhealthy way, and I really hope they don't do that on the show." Natuurlijk wil je als moeder niet afgerekend worden op je opvoedingskeuzes, maar met zoveel miljoenen mensen die naar je kijken, ga je 100% het een en ander over je heen krijgen.
Dat er meer te verliezen is, weet Whitney ook. Ze zegt: "I feel, obviously, a little bit nervous just because I think that we're all parents with kids, and so we have a little bit more to protect and a little more to lose. We are not 25-year-old single people anymore that can just have fun and not necessarily have consequences for our actions."
19.1k Likes, 134 Comments – Whitney Port (@whitneyeveport) on Instagram: "Leaving both my boys for a little. Duty calls in New York. I feel really sad but so happy I got to…"
De cast spreekt elkaar amper
Whitney heeft de afgelopen periode helemaal niet met de castleden van The Hills opgetrokken, maar ze hoopt dat de chemie vanzelf tevoorschijn komt zodra ze gaan filmen. Nogal tricky, als je het ons vraagt. Voor hetzelfde geld hebben ze helemaal niks meer met elkaar en wordt de hele serie super ongemakkelijk. Maar goed, daar gaan we natuurijk niet vanuit.
Ze zegt: "I'm going in kind of blind. I messaged with Spencer a little bit on Instagram, but just like friendly banter back and forth. I'm guessing that they're just going to start filming and see how it goes from there."
Nou goed, het enige wat we kunnen doen, is afwachten. We zijn in ieder geval mega enthousiast en ondanks dat Lauren niet meedoet, is het heel leuk om te lezen dat Whitney er zoveel zin in heeft.
Dit vind je ook leuk om te lezen.