Bizar! Dit is hoe Evan Peters zich maandenlang voorbereidde op de rol van Jeffrey Dahmer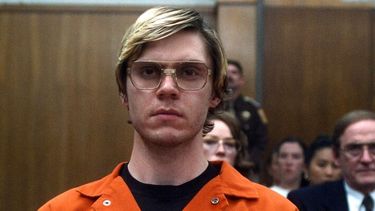 Hoe disturbing de serie ook is, Dahmer – Monster: The Jeffrey Dahmer Story is een regelrechte hit. En dat succes is grotendeels te danken aan het briljante acteerwerk van Evan Peters, die de rol van Dahmer op zich neemt. In een recent interview met Netflix vertelt hij hoe dit was en hoe hij zich voorbereidde op de gruwelijke rol.
Het spelen van Jeffrey Dahmer is Evan niet in de koude kleren gaan zitten.
Dit is hoe Evan Peters zich maandenlang voorbereidde op de rol van Jeffrey Dahmer
Tijdens een talk gehost door Netflix doet Evan een boekje open over de voorbereidingen op de rol – en dat zijn er nogal wat. "Doing the role, I wanted to give it 120 percent the whole way through, so I brought in a lot of darkness and negativity," zegt de acteur.
Gewichten aan armen
Het leven van Peters stond tien maanden lang in het teken van Dahmer. Hij bereidde zich vier maanden voor, om vervolgens zes maanden lang de afleveringen te shooten. Om de kenmerkende lichaamshouding van Dahmer na te doen, liep Evan lang rond met gewichten aan zijn armen. Zo vertelt de acteur: "He has a very straight back. He doesn't move his arms when he walks, so I put weights on my arms to see what that felt like. I wore the character shoes with lifts in them, his jeans, his glasses, I had a cigarette in my hand at all times." 
Hartverscheurend: dit waren de 17 slachtoffers van Jeffrey Dahmer
Het accent van Dahmer
Ook de stem van de gruwelijke moordenaar wilde Evan recreëren. Hij luisterde naar veel tapes en oefende zelfs met een stemcoach om het dialect van Dahmer over te nemen. "The way that he spoke, it was very distinct and he had a dialect. So I also went off and created this 45-minute audio composite, which was very helpful. I listened to that every day, in hopes of learning his speech patterns, but really, in an attempt to try to get into his mindset and understand that each day that we were shooting. It was an exhaustive search, trying to find private moments, times where he didn't seem self conscious, so you could get a glimpse into how he behaved prior to these interviews and being in prison" vertelt Evan Peters.
Producer Ryan Murphy zit ook bij het gesprek en hij geeft zijn bewondering voor Evan aan. "He basically stayed in this character, as difficult as it was, for months." 
Je begrijpt, dat is een heftige periode. Na de opnames had Evan dus ook flink behoefte aan gezelligheid en warmte. "It was just having that end goal in sight, knowing when we were going to wrap and finally being able to breathe and let it go and say, 'Okay, now it's time to bring in the joy and the lightness and watch comedies and romances and go back to St. Louis and see my family and friends and yeah, watch Step Brothers" aldus de acteur.