De nieuwste Instagram-trend 'reality vs. reality' neemt het platform over en is all about women empowerment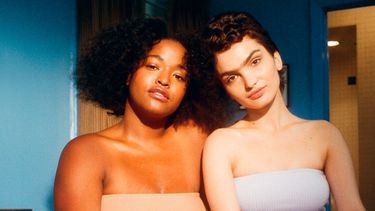 We weten allemaal dat we de content op Instagram met een korreltje zout moeten nemen. Je Instagram-tijdlijn is een vertekent en geperfectioneerd beeld van de realiteit. Of niet? Onlangs dook er een nieuwe trend op: 'reality vs. reality' en het gaat over women empowerment.
Vergeet 'Instagram vs. reality', want wie zegt dat jouw geposeerde foto geen realiteit is?
De nieuwste Instagram trend: reality vs. reality
We hebben een paar favoriete accounts die ook de minder glamoureuze kant van Instagram laten zien, maar over het algemeen doen we ons een stukje beter/sexyer/chiquer voor op Instagram. We gaan iets rechter op staan en proberen die dubbele kin te voorkomen op de foto, terwijl we daarna op de bank ploffen in onze joggingbroek met een halve pizza. Het punt van de nieuwe trend: beide kanten zijn de realiteit.
Lange tijd hebben we gelachen om 'Instagram vs. reality' foto's, maar eigenlijk doe je jezelf en een ander tekort hiermee. Het probleem hiermee is dat de trend insinueert dat alleen de 'reality' echt is en 'Instagram' nep. En dat terwijl jij het ook bent die op die fleeky Instagram-foto staat, waarom zou dat nep zijn?
Natuurlijk ben je niet altijd op je A-game – wie wel? -, maar dat is wel één van jouw kanten. Ook dat is realiteit. 'Reality vs. reality' is de veronderstelling dat alle vrouwen , in alle vormen, maten en kleuren, echt zijn. Of je nu een flatterende Instagram-pose aanneemt of niet.
De 'reality vs. reality' trend is empowering omdat het de kloof tussen vrouwen wegneemt en laat zien we allemaal onze imperfecties hebben. Of we nu poseren op een idyllisch strand in een veel te dure bikini of dat we in elkaar gezakt voor de spiegel staan in een comfy setje: we hebben meerdere kanten, maar dat maakt ons niet minder echt.
Je bent niet alleen de 'before' en de 'after' is niet nep.